I'm back with my Berlin Startup Funding Q3 Report, and I'm super excited to debut a new report format! I partnered with the wonderful Videopath team to create the above interactive video. If you are looking to improve your engagement and up the ante on content marketing – check them out.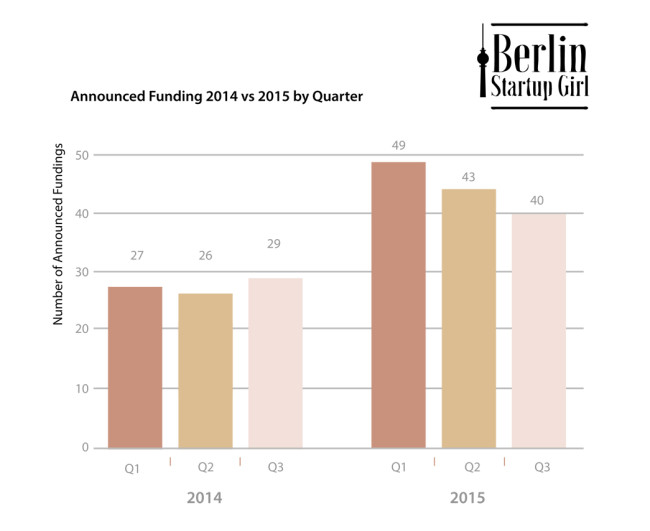 In Q3, 40 startups announced funding rounds and only half disclosed actual numbers. Total funding was significantly lower than the previous two quarters at $232M raised, compared to $461M in Q2 and a staggering $869M in Q1.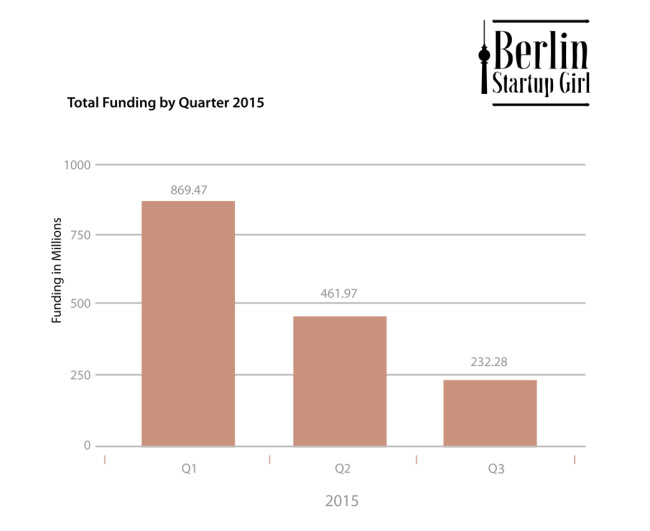 The primary reason is a single mega-round (HelloFresh) rather than the multiple mega-rounds of previous quarters. Investment by funding stages has remained consistent. 52% of Q3 funding rounds were seed rounds, in line with 48% for Q1 and 53% in Q2.  This trend differs from the pattern in the rest of the world, where seed funding deals have steadily declined. The average seed round amount has also remained constant. In Q1/Q2 the average Berlin seed round was $1M  and in Q3 we saw that number increase slightly.
Series A deals have held steady over the last three quarters, at 25% of total funding, but the average amount declined. In Q1/Q2 of this year, the average Series A round was $10.8M. This quarter, 70% of startups that reported raising a Series A round disclosed a figure, for an average of $6.5M. Later stage deals declined in both Q2 and Q3, as have average later stage funding amounts. The average D+ size round in Q1 and Q2 was $132M, whereas in Q3 we only saw one D+ round for $84.7M.
There are two other rounds worth noting that I did not include. In early July, Bloomberg reported that Berlin-based Auto1Group raised a $100M round earlier in the year, for a $1B valuation. This will be included in my 2015 year-end report, but was not cited in the Q3 numbers, since the round took place in the previous quarter. Zencap, a fintech company, announced that Victoria Park Capital will invest up to €230M in loans originated by Zencap over a three year period under an exclusive agreement. This figure was also left out since it is a partnership, rather than a traditional investment, but kudos to Zencap. Following this announcement, Zencap was acquired by Funding Circle in October.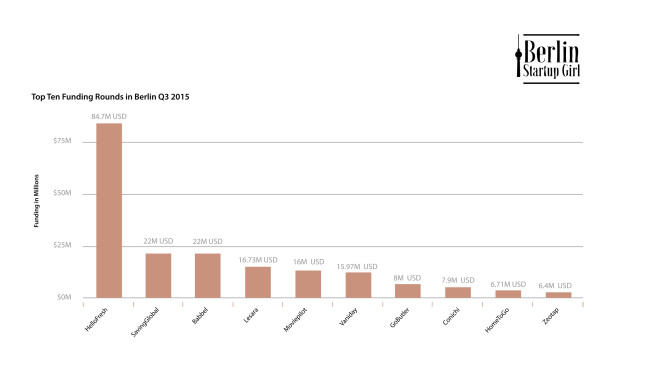 Top Funding Rounds
The only startup to raise a mega-round was Rocket Internet's HelloFresh which reported a $84.7M Series F round in September in preparation for their IPO. At the end of October HelloFresh announced plans to go public on the Frankfurt Stock Exchange. A week later, the IPO was pulled. The Financial Times cited investor scepticism over the company's €2.6B valuation. For an in-depth look at HelloFresh's operating metrics, check out this post.
SavingGlobal, the fintech company, raised at $22M Series B round led led by Palo Alto-based Ribbit Capital and London's Index Ventures.
Babbel, the language learning app, announced a $22M Series C round led by Scottish Equity Partners (SEP) and supported by existing investors Reed Elsevier Ventures, Nokia Growth Partners (NGP), and VC Fonds Technology Berlin managed by IBB Bet.
Lesara, an ecommerce company raised a $16.73M Series B round led by Northzone. Vorwerk Ventures is on board as co-investor, while existing investor Mangrove Capital also participated in this round.
Moviepilot, an entertainment-focused website built around reader contributions, announced a $16M Series B round led by French publishing group Webedia.
Vaniday, Rocket Internet's beauty e-commerce company, raised a $15.97M Series A from Rocket and others.
GoButler, an SMS concierge service, raised a $8M Series A round led byGeneral Catalyst Partners. Lakestar, Rocket Internet's Global Founders Capital, Slow Ventures, BoxGroup, Ashton Kutcher and Guy Oseary's Sound Ventures, and Cherry Ventures also joined.  *A note about GoButler – company was started in Berlin by former Rocket guys. According to their website they have offices in Berlin and NY. They are listed in Crunchbase as NY, but I included them.
Conichi, a travel startup, secured a $7.9M seed round from Hotel portal HRS.
HomeToGo, a travel ecommerce company, raised a $6.7M Series A led by DN Capital, and Acton Capital Partners.
Zeotap, the self described world's most trusted platform for actionable premium data from telecom operators, announced a $6.4M Series A from Capnamic Ventures, Iris Capital, and angels.
Other rounds that did not make the list due to withholding the actual amount include Book A Tiger, the cleaning service. They announced a seven-digit round from current investor Avala Capital. Ekomi, the feedback company, announced an undisclosed investment from Goldman Sachs prompting IPO speculation. Goldman has also invested in FoodPanda and Mister Spex this year.
Now for the fun stuff… Other standouts included a seed round for UnderCovers, an app for couples who like to try out new things in bed. Crowd favorite, Dubsmash, the messaging and lip syncing app made popular by Jimmy Fallon raised a $5.5M Series A led by Index Ventures. Other investors to join the round include Lowercase Capital, ENIAC Ventures, Sunstone Capital, Raine Ventures and King Digital Entertainment CEO Riccardo Zacconi.
Exciting VC News
In Q3, several VCs, including a few Berlin based firms, also made fundraising announcements.
Gruenderszene reported in July that Earlybird Capital announced plans to raise a sixth round of at least €150M.
WirtschaftsWoche reported that Rocket Internet has plans to raise a $1.1B round for late-stage startups creatively called the Rocket Internet Growth Fund.
Q3 also saw interesting international investments. Fred Wilson of Union Square Ventures published a blog post about European Startups. He notes that over the last six years, roughly 25% of Union Square Ventures investments have been in Europe, but this year his team has made nine investments to date (a few have not yet been announced) and four of them have been in Europe (45%).
Despite the lackluster quarter in terms of sheer numbers, 2015 has been an insanely good year. We have less than one month left of Q4, but the figures already look promising. Thus far, we have Get Your Guide with 50M in a Series C round, Adjust with a Series D of 17M, Reyaler and Nestpick raising a $11M series A, respectively, and crowd fav Clue picking up a $7M Series A round.
For more about which startups raised rounds in Q3 and a look ahead (as we are two months into Q4), check out the video above.