Is there a bubble? It depends who you ask. Will it burst? Opinions differ. Speculative bubble posts are as common as articles saying that Berlin is over.
The data is in and Q1 is tied for the highest number of investments (54 for Q1, which is exactly the same as Q4 2015). In terms of amount invested, however, it was the lowest quarter out of the previous five. Surprisingly, this might not be cause for concern. Let's take a deeper look in this 2016 Q1 Berlin Startup Funding Report.
The number of rounds continues to increase quarter over quarter. Q1 2016 saw exactly double the number of funding announcements of Q1 2014. The breakdown by stage has remained fairly constant. In Q1 2016, half of all rounds were seed rounds, compared with 54% in all of 2015. Series A rounds accounted for 18.5% this quarter, compared to 23.2% last year. We saw slightly more Series B rounds: 13% compared to 9% last year. Series D+ rounds dropped to 3%, though they accounted for 5.7% last year.  
While the amount of startups announcing investment continues to rise, the total amount of funding is declining. Out of the 54 startups who announced funding, 53% of them disclosed how much funding they received. This is consistent with previous quarters. The total amount raised in Q1 2016 was $222M.
So wtf is going on?
In Q1 and Q2 of 2015, the majority went to food-related startups. For instance, in Q1 last year, Rocket paid $309M for new Delivery Hero shares, and another $259M for a stake sold by existing investors. That same quarter HelloFresh, another Rocket Internet company, raised a $126M round. In Q2, Delivery Hero saw another $100+M round, as did FoodPanda. This year we are not seeing similar mega-rounds. This is consistent with global trends. As valuations are slashed by mutual funds, investors are finally starting to come to terms with the fact that these valuations might just be… bullshit.
Also, each mega-round last year involved Rocket Internet, which has its own troubles with several large investment in negative territory. In December, they posted an operating loss of €1B, €400M more than the previous year, while revenue rose nearly 70% to €2.4B over the same period. Chief Executive Oliver Samwer vowed to limit losses, pointing to large cash reserves and better conditions ahead, but their stock continues to slide.
When it comes to the size of seed rounds, the average amount raised is on the rise. In 2015 the average seed round was $1.06M, and in Q1 2016 the average went up to $1.48M. Average Series A took a slight dip from $6.52M to 4.71M, average Series B went up, and there wasn't enough data to make an accurate comparison when it came to Series C and D, as there were only two companies that announced those funding rounds, respectively.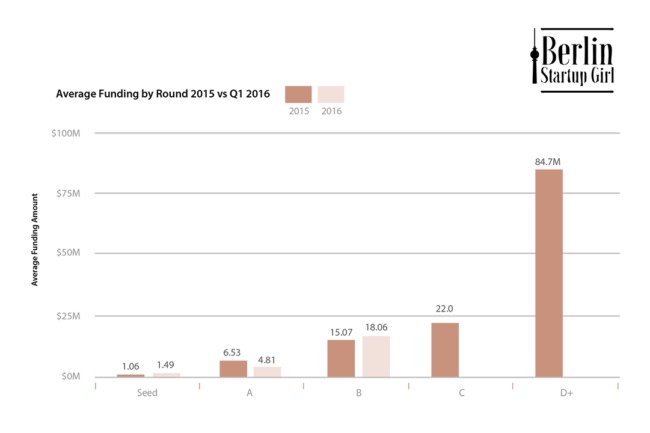 Top Ten Funding Rounds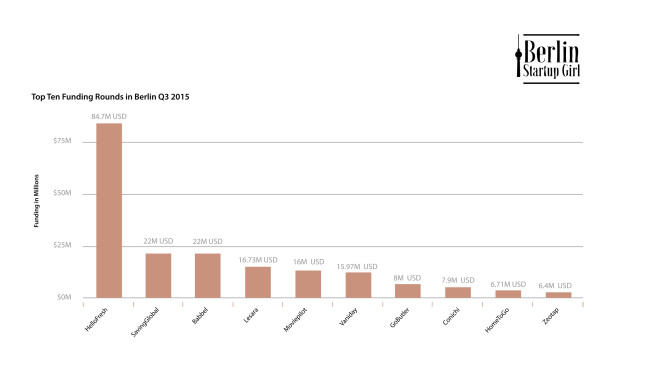 Rocket Internet's Spotcap, an online credit lending platform for small businesses, announced a $34.4M Series B round. It was led by Finstar Financial Group from Russia, in participation with existing investor Holtzbrinck Ventures.
Rocket Internet's Lamudi, the real estate classifieds in emerging markets, raised an $18M round from Rocket's usual suspects: Asia Pacific Internet Group, Holtzbrinck Ventures and Tengelmann Ventures.
Movinga, another moving startup secured a $25M Series B funding. Led by Index Ventures,  previous investors including Earlybird VC, Heilemann Ventures, and Global Founders Capital participated.
Rocket Internet's Home24 announced a $22.8M addition to their Series D round. The round consists of funding from new and previous investors, but further details were not disclosed.
Marley Spoon, the cook-at-home food delivery service closed a $17M Series B round. The round comes from new investors including QD Ventures, Kreos Capital, and existing investors, including Lakestar.
Friendsurance, the peer to peer Insurtech platform, closed a $15.3M Series B round. The round was led by Hong Kong-based Horizons Ventures.
Payleven, a fintech startup similar to Square, announced a $10M Series D round from a new investor, Seventure Partners, and several existing investors including Holtzbrinck Ventures, ru-Net, B Cinque, New Enterprise Associates (NEA) and MePay.
Mambu, a SaaS banking platform, raised an $8.6M Series B round  led by Acton Capital Partners and CommerzVentures, with participation from existing investors.
Watchmaster, a platform for secondhand luxury watches raised an $8M Series B round. Cherry Ventures led the round with participation from other investors including Piton Capital. Angel investors Robert Gentz and David Schneider also joined this round.
B2B travel startup, Distribusion Technologies raised a $6.77M Series A round from Northzone, Creandum, HR Ventures and returning investor Frühphasenfonds Brandenburg.
What is up with SoundCloud?
Startup darling SoundCloud is having a roller coaster of a year. The $222M that they raised in Q1 does not include a debt round of $35M, which was reported in Q1 2016. First, I do not think debt funding should count in a report about the state of venture capital, and second, the debt round actually took place in 2015. I've included it in the total number of rounds, but left it out  when reviewing the sheer volume of money invested here. Their ups and downs have included numerous layoffs, rumors of a sale to Twitter, the aforementioned round of debt financing, a landmark deal with Universal, and the announcement of a $44M loss. The latest news seems more promising. Earlier this week SoundCloud announced a licensing deal with Sony, and previously announced the hiring of Alison Moore as its chief revenue officer. Fingers crossed that she gets things under control.
Funding Trends That Should End
Food delivery services. Just fucking stop. Oddly, Berlin VCs don't agree with me. Marley Spoon and Gegessenwirdimmer.de, another artisanal food delivery site, announced rounds this quarter. In fact, well-respected serial entrepreneur Christophe Maire decided to put all of the startups he has invested in into one holding: The Atlantic Food Labs. Maire started the holding in July of last year, but Gruenderszene reported on it in Q1 of this year.
Berlinspiration
While we are still seeing investments in non-disruptive industries like food or moving, Q1 showed a greater diversity among companies securing funding. Software and ecommerce companies still dominate, naturally, but Fintech, Medtech, Hardware, and Mobility startups are seeing more action.
Among the recent trends that I find the most exciting:
VR:  Berliners, famous for creativity, are claiming territory in the burgeoning VR landscape.  Metaphysics VR, which focuses on VR for fine art, raised a small seed round. Another Berlin-based VR startup, Splash captures a 360 degree videos on your mobile in seconds, and enables you to share it to any social network & view it in VR. Last quarter, they pitched and won at the SXSW accelerator.
Chinese VC's: I've previously written about the influx of American VCs, but this quarter, I spotted two investments led by Chinese firms. Medigo announced a $3.5M round led by CL Ventures, a prominent venture capital firm in China. Horizons Ventures, a private investment arm of Hong Kong business magnate Li Ka-Shing, pumped $15 million into its second investment round in German insurance technology startup Friendsurance. It will be interesting to see how investors from Asia engage with the Berlin ecosystem. 
Don't Panic
The investment landscape is changing, but that is not an automatic cause for alarm. VCs are raising more money than ever before, both in the US and Europe (more on that next week). Investors seek sustainable startups with a clear path to revenue, which Berlin founders have always emphasized more than their American counterparts. Berlin is still capturing interest from VCs around the globe and a broad array of new startups are still being funded. Even without mega-rounds from Rocket, the Berlin ecosystem is strong and continually discovering new strengths.