I am traveling in the US, which prompted several days of pondering on the German banking system.
Why?  First, my Deutsche Bank EC card will not work in America. While researching the many solutions for this inconvenience, I came across enough intriguing new data on the Berlin fintech scene that I had to write about it. There is plenty of reports on fintech in Germany has a whole(here is a good overview by EY), but less written about Berlin specific fintech investments, which accounts for only a fraction – 28% according to EY.
A note on my data: If you follow my blog, you know that I start with CB Insights, then cross-reference their reports with local news sources including Heureka, Gruenderszene, and Tech.eu. I also conducted fintech related searches based on this list by Let's Talk Payments.
Berlin Fintech Funding Overview
Fintech is growing globally, and Berlin is no exception. According to Accenture, overall fintech ventures in Germany grew a staggering 843% between 2014 and 2015. In Berlin, the total amount invested over the same period grew 200%.
In 2014, ten Berlin fintech companies announced a total of 27.9M USD raised. (Three did not report exact figures.) In 2015, sixteen startups announced total funding of 83.8M USD with seven not reporting exact figures. Five months into 2016, eight startups have reported raising 103.4M USD with all disclosing the exact amounts. More exciting than the sheer numbers is the rapid rate at which the ecosystem is maturing.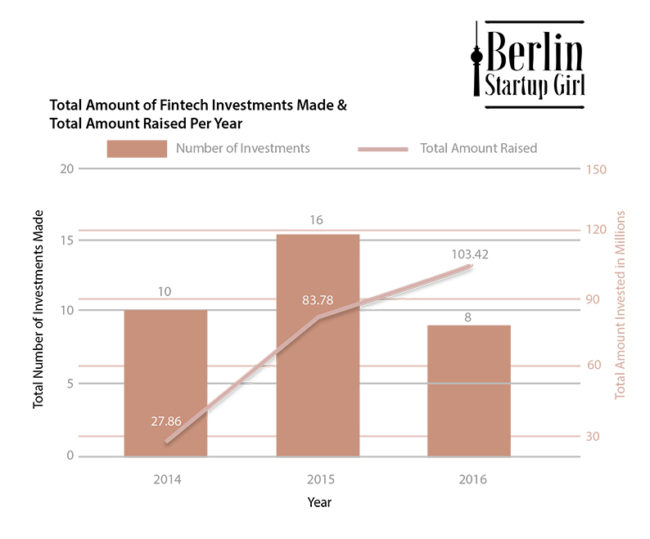 The proportion of seed rounds to overall investment decreased. In 2014, 70% of the funding rounds were seed rounds. In 2015, seed deals accounted for 62% of funding rounds, and so far in 2016, only 12.5% of deals are seed rounds. In fact, in 2016 we are seeing more fintech later stage rounds compared to other verticals. Over the last five months, fintech saw two A deals, three B, and one C and D round, respectively.
The average size of rounds is consistent with other verticals (for comparison, I used 2015 data). The one significant difference is that Fintech Series A rounds are 75% higher. B and C rounds across all verticals are slightly higher, but the number of fintech B and C rounds are limited (five and two).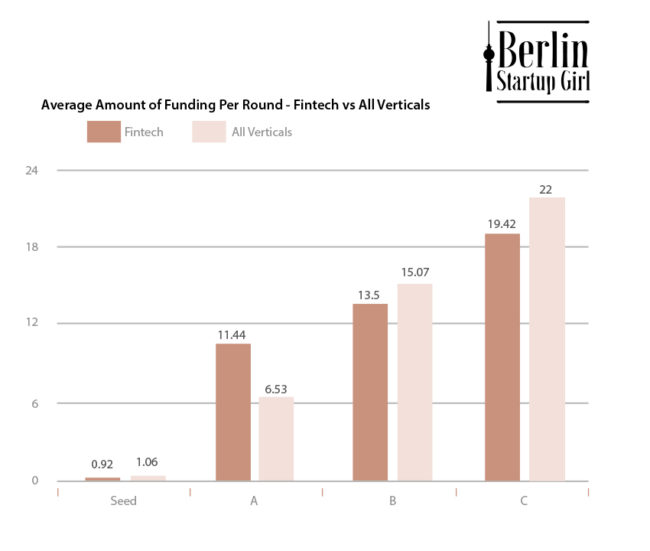 Top Five Funding Rounds
As in other verticals, Rocket Internet played a role in several of the top funded companies.
Spotcap, Rocket Internet's online lending platform, appears on the the list twice. They raised a 34.4M USD series B round in February 2016. It was led by Russian private equity firm, Finstar Financial Group, with participation from previous investor Holtzbrinck Ventures. In October 2014, Spotcap announced a 14.8M USD Series A round.
Earlier this month Orderbird, the leading iPad point of sale (POS) solution in German-speaking markets, announced a 22.9M USD series C round, led by Digital+ Partners, with Metro Group and Concardis participating.
Lendico, Rocket Internet's P2P Lending Service, raised a 22M USD Series A round from Rocket Internet, Access Industries, HV Holtzbrinck Ventures and a new investor in May of 2015.
Friendsurance, the peer to peer Insurtech platform, closed a $15.3M Series B round. The round was led by Hong Kong-based Horizons Ventures.
So just who is investing? Honestly, a little bit of everyone. I was surprised to see one or two fintech investments from almost all major Berlin funds. Point Nine has invested in Candis and Bitbond. Holtzbrinck Ventures invested in Payleven, Cookies, and Lendico. EarlyBird invested in the seed round of Number26 and Casboard. German Startups Group has made investments in Friendsurance, CRX Markets, and Simplesurance. There are large funds like Index
Notable Mergers and Acquisitions
Most recently the European Square clones SumUp (London based) and Rocket's Payleven (registered in Berlin) announced that they are merging. According to TechCrunch, the companies did not disclose valuation details.
Zencap, a Rocket venture in the lending space, was acquired by UK marketplace lender Funding Circle in October 2015. The terms of the deal weren't disclosed, but it is worth mentioning that in the months prior to the acquisition, Zencap announced that Victoria Park Capital will invest up to €230M in loans originated by Zencap over a three year period under an exclusive agreement.
How are the banks responding?
According to Deutsche Bank, 56% of German banks cooperate with fintechs for their digital strategy. To be entirely candid: I don't have any trust in Deutsche Bank. Their definition of "fintechs" includes startups and – "established (non-bank) firms with large network (e.g. internet platform, telecom company, large retailer)" – whatever that means.
Regardless, the banks are getting involved in different ways. Let's start with the positive.
BNP Paribas is shaking up the hackathon format, and will host events in Berlin and seven other European cities this June. This doesn't feel like standard corporate PR bullshit. The winning startup will be invited to participate in a Digital Bootcamp, where the team's prototype will be nurtured with financial support and BNP Paribas' international network of experts and mentors. In Stage 3, the team will be flown to Paris to present at a Demo day, flanked by BNP Paribas top brass and international fintech experts. If they love it, the prototype will become a reality used by 100 million clients of a top global bank. If interested, you can sign up here.
Apparently, Deutsche Bank is also trying to collaborate with startups. Last month, they announced the opening of a new innovation lab in Silicon Valley, following last year's successful launch of innovation hubs in Berlin and London. Hmm… does anyone know what is going on at the Innovation Lab in Berlin?
The Financial Times reported that Commerzbank, Germany's second-largest, which invests in startups through its Main Incubator and CommerzVentures entities, has so far made five fintech investments with applications for either private or corporate clients.
As in other industries, the German corporates are starting to pay attention (sometimes years late) and very few are adding value. Luckily, investors and accelerators like Finleap are filling in the gaps.
Where does this lead us?  Fintech is hot, investors are not shy about later stage rounds, and venerable large institutions are making splashes on the Berlin scene.