It is officially the holiday season, and I had to come up with some items to ask for at the family gift exchange. After putting together my list, I realized that almost everything was pretty damn girly and techie, so I thought I'd share my wishlist here, and maybe help out some fellow women in tech.
For the lady geek in your life who cares about style as much as technology:
ElektroCouture Artdeco Necklace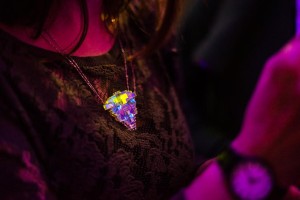 ElektroCouture is a collaboration of artists, designers and technologists working together to create electronic jewelry and fashion pieces. The group was founded by Berliner and fellow Geekette Lisa Lang. Last month, over coffee, she told me about all of their amazing projects, and I fell in love with her Artdeco necklace. Not only is the design gorgeous, but the necklace lights up (in a non-rave-y way) making it the perfect statement piece. There are several different versions. The first is the gorgeous laser cut necklace with batteries and LED lights (approx 129 euro). The second version will light up based on your body heat (approx 249 euro). Though they will not be out in time for Xmas, you'll be able to preorder from the ElektroCouture website.
Ringly
I'm well aware that Ringly has been covered by every tech publication and women's fashion blog, but I want it. Crafted with an 18K matte gold 3 micron plated setting, and precious and semi-precious stones, Ringly alerts you when you get an email/call/tweet from someone who matters. I'm not sure who that person would be in my life, but the pink sapphire ring looks exactly like a piece I declined to buy five years ago, on a trip to India, that I still think about. Ringly is the best example out there of a company focusing on style just as much as tech.
Tory Burch for FitBit (the Bracelet, not the ugly necklace)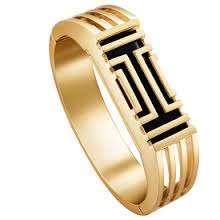 I have a FitBit. Or, at least, I did. It was an impulse purchase when buying a new laptop last year. I wanted to prove (to whom I'm not sure) that I walked more in Europe than in the US. Duh – I have a car in California, and in Berlin my metro stop was closed for the last year. Anyway, once I confirmed that I walked an average of five miles per day in Germany, I put it in a drawer, never to be seen again. Now that I'm considering another marathon, busting out the FitBit makes sense, and part of me thinks that if it were more attractive, I'd be more inclined to charge it. Enter the Tory Burch for FitBit's gold band. Worth a shot.
Ricky bag from Ralph Lauren
At $5,000 this bag definitely goes on the wish list.  The New York Times recently reported that Ralph Lauren has introduced an improved "Ricky bag with light" for the holiday season. The new version of the bag is  equipped with a USB charger and four discreet LED lights that come on when you open the bag. While the bag is a work of art – each one  is handmade in Italy out of calf skin and takes 12 hours to create – I'm more excited about having a light and a charger in a big purse.
For the health nut or anyone who lives in Berlin:
Vessyl: A Smart Cup That Counts Liquid Calories
I'm a typical Californian health nut. Although I eat a healthy, mostly veg diet, and workout 5 to 7 times a week, I always lose 5 lbs when I visit California and gain it immediately when back in Europe. Why? Wine. In a city with no last call, it is easy to rack up five or six drinks in a night. In San Francisco, where bars start shutting down at 1:30am, there is only so much damage you can do.
Enter Vessyl, a smart cup that doesn't allow for complacency. Vessyl is a cup designed to automatically assess what's been poured into it and track what you're drinking in real-time. Put any type of liquid into the cup, whether it be soda or juice or coffee, and the Vessyl's advanced sensing technology breaks down the fluid to a molecular level in order to identify the beverage. It can even differentiate brands like Pepsi versus Coke, plus, it gives caloric make up including total grams of sugar, fat, protein, sodium and caffeine.
6SensorLabs Gluten Testing Device (available in 2015)
California seems more hip to food allergies then elsewhere. While Berlin isn't as bad as parts of Eastern Europe where chicken bits floating in a vegetable broth still counts as vegetarian, I have been told that items are gluten free when they aren't. 6SensorLabs is creating a device (available in 2015) that uses chemistry-based technology to determine when a food sample contains the protein gluten.
You place a tiny morsel of food into a pocket-sized sensor, wait a few minutes or less, and the device will inform you whether it the verdict is g-free or not.
For the transient techie with a lover or two abroad:  The Luxurious Remote-Controlled Bullet Vibrator
In our supposed hookup culture, remote control vibrators seem to be all the rage. As someone who bores of Skype sex and long distant relationships in general, I've never felt the need. Then my favorite Swedish sex toy shop, Lelo, created the LYLA  2,  the premium bullet-style vibe with a wireless remote featuring revolutionary SenseMotion™ (movement-activated controls). If past Lelo gifts have taught me anything, this is definitely worth a shot.